Formulation technology:
Chemtros has a broad range of chemical experience and know how
that can meet the needs of its customers.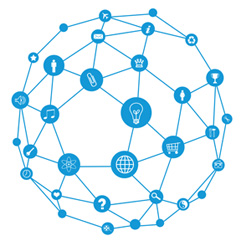 Our R&D activities have maintained a high quality for a long time, and we have established and realized a successful commercialization network based on those activities. Currently, more than 30% of total manpower in the Chemical and Polymer Business Department are concentrating on R&D activities.
R&D activities have been an integral part for operation of all business since our Chemical research institute was established in 2007. In 2015, we have taken our R&D competency to a whole new level by merging the combination technology, a technical foundation of polymer field into the existing polymer synthesizing technology bringing out a synergistic effect in technological merging. Chemtros chemical research institute will prove its capability by becoming a key partner of customer who pursues creation of value.
Based on our organic synthesis, combination technology and experience, Chemtros has established a system that is capable of providing customers within their required date in reasonable prices. Our research and production ability has been praised by many partners and customers, and Chemtros means to progress further to realize customers' ideas and expectations.
Chemtros is always open to customers' ideas and suggestions for new projects. Please contact us with any suggestion of cooperation, idea, technology inquiry or any questions.
Patents and Certifications
Chemtros research institute is focusing its capabilities to development of innovative technology based on professional knowledge and experience about process and R&D.
Equipment and Facility in Possession

HPLC / GC / NMR / IR / IC
Hydrogenation reactor set up
Short Path Distillator (SPD)
Single molecular chemistry

Separation and synthesis of Chiral compound
Complex multistage Organic synthesis
Organometallic (Li, Mg, Zn, etc.) Synthesis
Air Sensitive Materials
Metal Content Control
Polymer and oligomer

Polyol and Prepolymer Synthesis
Urethane Acrylate
Copolymer Molecular Weight Control
Adhesives
Possess technology of organic metal response which requires advanced production technology, Control molecular weight, quality management capability, and fusion of synthesis and combination technologies
Molecular design capability to realize a property of matter that customers need and know-how of synthesis route design of synthesizing designed molecule and combination
Based on accumulated technology of organic synthesis and combination, it has achieved a success in mass production of products in domestic and overseas electronic material and diverse industrial areas – intermediates, polymer, electronic material, etc.
Constant research and development by a number of specialists in their respective technological fields who have a long time of research career of 20 years in average
Contact Us
Please feel free to contact us for further information.
We will be happy to answer any of your questions.
031-491-0653
info@chemtros.com